We recently had the opportunity to speak with Trinay Thomas, Teaching Instructor and Associate Director of Field Education at Rutgers School of Social Work. She discusses her path to a career in social work and some of the professional endeavors she's taken on recently.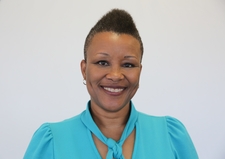 How did you become interested in pursuing a career in social work?
I have always been highly intuitive and able to sense the energy of others; many individuals felt comfortable talking and connecting with me as a college student, and I enrolled in Introduction to Social Work as an undergraduate student. The course was transformational for me and led to my desire to become a social worker, teacher, and licensed clinical social worker.
Tell us about your educational and professional journey.
After completing my MSW at Rutgers School of Social Work, I was a social work clinician providing psychotherapy to children, youth, and adults at St. Joseph's Regional Medical Center in their outpatient setting for two years. After that, I became a school social worker in a public-school setting during the day while remaining at St. Joseph's in their Psychiatric Crisis Emergency Department (ED) in the evenings. The Psychiatric Crisis ED environment assisted me in developing the diagnosis and assessment skills I still use today in my clinical work with clients and teaching techniques I use with MSW students in our Clinical and Assessment Diagnosis course in our program. I have been a Certified Clinical Supervisor for 16 years and a Licensed Clinical Social Worker for 19 years. I am also a registered out of state telehealth provider in state of Florida and a practicing licensed clinical social worker in New Jersey, New York, and Washington D.C.
In addition to your duties at Rutgers School of Social Work, what other professional endeavors are you currently pursuing?
This year, I have been facilitating workshops on the new DSM-5-TR and Advance Clinical Supervision beginning in April. I have been scheduled for various workshop engagements until October. Some of the places I have completed these workshops so far have been at the School of Social Work's Continuing Education Department, the NASW-NJ Chapter's Continuing Education Department, and the NASW-NJ Annual Conference. This month, I just presented to social work and psychology professionals in the Caribbean Region on the DSM-5-TR with participants representing islands such as: Antigua and Barbuda, St. Lucia, Guyana, and Trinidad and Tobago. Social work students from the University of the West Indies, St. Augustine Campus were able to attend this workshop along with professionals of Caribbean descent that reside in U.S. Some of the other places I am scheduled to present on the DSM-5-TR will be with the NASW-NYC Chapter's Continuing Education Program and Clinicians of Color, Inc. Also, in August I will be completing another workshop on the DSM-5-TR for the Association of Caribbean Social Work Educators on how to implement the new textbook into their social work curriculums throughout the Caribbean. 
In addition, I also have a private practice called the Good Healing Firm where we provide psychotherapy for first and second-generation immigrants and beyond that are from the Caribbean, Asian, and African diasporas. We also provide clinical supervision and consultation.
What would you tell someone who is interested in pursuing a career in social work? 
I would encourage anyone interested in social work to pursue an additional language and acquire technological skills as they pursue their dreams in the profession. As our globe becomes smaller, there is an increasing demand for these two specific skills to meet the needs of clients and the marketplace. This will greatly support their search for positions upon graduation and make them twice as competitive.
Do you have any hopes for the future of the field of social work?
That we continue to have an abundant flow of MSW graduates launching into the profession because it is a great calling and journey.