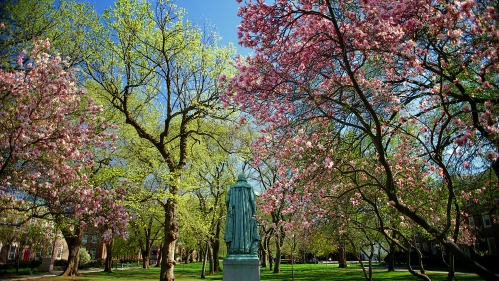 Meet the 2022-2023 IIDEA Committee
Click on each person's name below to learn more about their research and interests relating to IIDEA.
I've always had the drive to engage in work to support diversity, equity, and inclusion. For years, my research has examined trauma and resilience among LGBTQ+ populations, and more recently, it has focused on some of the most hyper-marginalized subpopulations of the LGBTQ+ population, particularly immigrants, refugees, and asylum seekers, who contend with intersecting stigma precipitated by their experience with racism, homophobia, transphobia, xenophobia, and classism. I've been attempting to understand their experiences and discern how mental health professionals, policy makers, and immigration officials can intervene to improve their physical and mental health and overall quality of life. When you think about LGBTQ+ migrants and the intersecting forms of stigma that they experience, my work lends itself to the IIDEA Committee.

Diversity, equity, and inclusion initiatives have always been important to me, but in recent years I have been particularly interested in these issues. As social and health inequities continue to rise in the United States and around the world, we need to understand how power and privilege, racism, and classism keep these inequalities afloat. Rather than scapegoating or blaming particular groups for causing these inequities, we need to take immediate action to reduce these inequities and to address the impact of these inequities on marginalized and oppressed groups. This is of critical importance, as the COVID-19 pandemic has compounded inequalities for individuals and groups who were already struggling.

As part of the IIDEA Committee, I am particularly interested in hearing from students about how they feel about the School, and what's important to them and what knowledge and skills they need to address these inequalities on the micro, mezzo, and macro levels. The work we're doing in the IIDEA Committee is to take a close look at our programs and curriculum and how we talk about diversity, equity, and inclusion throughout the School. Dr. Farmer and the IIDEA Committee are invested in ensuring that change occurs.

Diversity, equity, and inclusion involves difficult conversations, honest assessments, and renewed commitments. I have been involved in difficult conversations for as long as I can remember. Growing up in an integrated community allowed me to have interesting, confusing, and liberating experiences. I saw the best and worst in others and myself. Kindness and meanness, generosity and animosity, and inclusion and isolation. I heard the racist rants of my Irish American next-door neighbors to the left, and I witnessed the radical anti-racism of my African American, next-door neighbors to the right. My earliest teachers were of different races, ethnicities, genders, and ages. I studied at a well-known HBSU before completing my undergraduate work at two predominately white private colleges. My first graduate degrees were from another private white school. Difficult conversations followed me at every turn. My white neighbor told me, "You're so nice, you ought to be a white boy." My white classmate asked, "Can you tell me what it's like being Black?" My white, gay professor and compassionate faculty advisor, speaking courageously and honestly of our school, stated, "You can throw a stone in any direction and hit a member of the KKK." All of these, and countless others, difficult conversations, indeed.

I have been leading difficult conversations about diversity, equity, and inclusion in classrooms and boardrooms, at conferences, and in agency settings for more than two decades. These conversations involve honest assessments about one's worldview. Making an environmental scan allows one to see things before us with greater clarity. Exploring one's personal family background can lead to new understandings about one's place on the continuum of privilege and oppression. Interviewing someone from a different background, and engaging in research related to another's group could involve both difficult conversations and honest assessments. Students engage in a social, economic, and environmental justice assignment that allows for new and renewed commitments to a life of applying one's knowledge, values, and skills to advance the work of our profession through a diversity, equity, and inclusion lens.

My research interests involve issues related to racial and social justice, and religion and spirituality. I am pleased to serve with Associate Dean Antoinette Farmer and my colleagues on the IIDEA Committee. This Committee is engaged in difficult conversations, honest assessments, and renewed commitments to the important DEI work related to the strategic initiatives of our School, University, and nation. More than celebrating diversity, we renew our commitment to challenging disparities, reducing inequality, achieving equity, and striving for inclusion.

The referenced media source is missing and needs to be re-embedded.

I am delighted to team up with other committee members and help inform the Dean and other leadership personnel on policy and practices that assist students, staff and faculty in feeling and knowing that they are valued. A member of the School of Social Work should not have the slightest worry that their identity may threaten their growth, achievement, sense of self-worth or safety.

I have worked at the Center for Research on Ending Violence (formerly the Center on Violence Against Women and Children) for just over three years. I am also a graduate student in the Master of Communication and Media program at the Rutgers-New Brunswick campus. Up until my time at Rutgers, I was a staff member at an interesting mix of colleges and universities: a private, single-sex, historically Black college, a public research university and a private alternative healthcare university. 

Serving as staff representative on the IIDEA committee, I look forward to drawing upon the concerns of my colleagues and my personal and professional experiences to proactively surveil social blind-spots, maintain equitable pathways to success and promote professional, academic and personal well-being.

As a former social work administrator and prior chairperson of groups that have advocated for equity and inclusion, my personal and professional efforts have focused on improving diversity, equity, and inclusion. For many decades, I have lived and worked in communities that were long neglected by the vital institutions that are needed for the development of healthy and thriving neighborhoods. The impact of such neglect has had profound generational effects on individuals, families and communities that can be reversed if we focus on making systems accountable. My life's work has been aimed at revealing opportunities to reverse these trends, and thus I welcome the opportunity to work with others to elevate conversations that promote diversity, equity and inclusion (DEI).

It is important that we address institutional issues in our collective role as educators of the future leaders of the profession who will succeed the current leaders of social work organizations. Acting with the IIDEA Committee members and its leader, Dr. Antoinette Farmer, we can align our principles and practices to ensure that we develop the potential to have an impact on advancing needed change while focusing on tangible actions. Our work of collecting and analyzing information is critical so that we can engage in rich debate that will result in recommendations to the School's dean, administration, and faculty to elevate equity, diversity, and inclusion in our curriculum, recruitment processes and within our work with community partners.

If we are to be true to principles of diversity, equity and inclusion, it is necessary that we set an example — and a good place to begin is with ourselves. It is clear that the School is committed to looking inward, which is why IIDEA is front and center in its strategic plan. I hope to share my personal and professional lived experiences to have authentic and informed discussions. Through my participation on IIDEA, I intend to contribute to the development of tangible solutions to shape our future by promoting a diverse, inclusive and equitable curriculum, workplace and classroom at the School of Social Work. It's essential that staff, faculty and students feel accepted and valued and have an equal opportunity to grow and succeed and to ensure the same for our clients, communities and the profession.

As a social work graduate student, I was deeply inspired by the "be the change" quote attributed to Mahatma Ghandi who said,

"We but mirror the world. All the tendencies present in the outer world are to be found in the world of our body. If we could change ourselves, the tendencies in the world would also change. As a man changes his own nature, so does the attitude of the world change toward him. This is the divine mystery supreme. A wonderful thing it is and the source of our happiness. We need not wait to see what others do."

It is this conviction toward personal growth and discovery that obligates me to engage in work that promotes diversity, equity, and inclusion (DEI). I am invested in doing my part to celebrate the beautiful and unique identities we each embody and to support cultures and environments that seek to remedy historically rooted racism and inequity.

I am finding ways to support DEI in all aspects of my life. As an individual, I am taking the time to listen to the voices of others through incredible conversations, books, webinars, and feature stories. In my professional role as a social worker and assistant professor, I think critically about how I teach and what conversations I foster in the classroom. I am purposeful about participating in and promoting reflection on positionality and cultural humility. In my research, which focuses on the adversities and traumas children experience and systems' responses in child welfare and juvenile justice, I am cognizant of disparities and work to highlight areas where our systems can better meet the needs of youth and families. Currently I am a co-director on the executive committee of the Child Well-Being Research Network where I have been involved in DEI initiatives that include an equity study of our professional group. I am working closely with this group to ensure that our transition to an expanded network fully integrates DEI principles in all of its efforts.

As a member of the IIDEA committee, I believe that we have an incredible opportunity to examine our policies and practices as a social work institution. Under the leadership of Dr. Antoinette Farmer, I am confident that we will thoughtfully strengthen efforts within our school and communities to promote a more just world. I am excited and humbled to be a part of this work. Through collaboration with students, staff, faculty, and community members, I feel confident that we can create meaningful change.

Antoinette Y. Farmer (Ph. D., University of Pittsburgh, 1991) focuses on research that examines the social and interpersonal factors that affect parenting as well as how parenting practices influence adolescent high risk behaviors, such as delinquency and substance use. This research agenda has been greatly influenced by the work of Jay Belsky, and she has also modified his ecological model as reflected in her research examining the buffering effect of social support on the relationship between parenting stress and parenting behavior. Her work in the area of parenting has led her to develop and test models to determine what variables may mediate the relationship between parenting and adolescent outcomes. She is also beginning to examine the effects of fathers' parenting practices on adolescents high risk behaviors. Her work has also examined the effects of religion/spirituality on adolescent high risk behaviors. In order to carry out her research agenda, she conducts quantitative data analysis using large national data sets. Her research has been published in Social Work, Journal of Social Service Research, and Children and Youth Services Review. She co-edited a special issue of the Journal of Social Service Research, which was devoted to informing researchers of the methodological issues confronting them when conducting research with minority and oppressed populations. She has also written several chapters on this issue as well, with the most recent appearing in the Handbook of Social Work Research Methods (2nd Edition). She has served as a consulting editor for Social Work in Education and on the editorial board for Children in Schools. Dr. Farmer has also presented at numerous national and international conferences.

I am pleased to join the IIDEA committee to represent the DSW program. As a clinician-scholar, diversity, equity, inclusion, and belongingness (DEIB) must be at the center of my work. I am fortunate to have a dual role as both a doctoral student and a Rutgers staff member at Counseling and Psychiatric Services (CAPS). In maintaining two roles, I am able to hear from students about growth areas for Rutgers in the way of DEI while also witnessing this in my own program.

As a clinical social worker, my focus has typically been on serving communities with marginalized identities who experience pervasive mood challenges, self-harm, or suicidality. Though many diagnostic criteria will focus on an individual and their role in their "disorder," my belief and perspective has always been that symptoms are typically a result of larger issues within a system. As such, I sit on many consultation teams where I push myself and colleagues to look for system-related impact in their clients. In doing so, we hold ourselves accountable to move beyond individual interventions to also focus on creating systems, communities, and cultures of well-being.

The majority of my career has focused on bringing justice to populations and communities that are routinely and systemically marginalized. As a trans/non-binary person, I have seen the immense impact of systems that do not recognize your existence or demean your value. As a white person, I know I am responsible for pushing back against white supremacy so those who have been fighting for so long are not alone. Above all, my commitment is to create a culture and community of belongingness where people of every identity feel welcome and represented.

Raised in close proximity to an incinerator, landfill, and centers of industrial pollution, I find it challenging to ignore individuals' and communities' experiences of inequity. The disproportionate outcomes on health, economic, and other measures of well-being on marginalized groups have influenced my personal and professional passions. I have the opportunity to teach and uncover social work students' and professionals' capacity to confront and rectify environmental injustices. Social workers are bound to serve the vulnerable populations who suffer environmental injustices at greater rates. The distinct positioning of the profession allows social workers to navigate within systems, while changing them. Additionally, the six core values of social work can serve as a guide.  For me, specifically, my commitment to social justice grounded my work in environmental justice. With a non-dual perspective, I acknowledge the interconnection between environmental, social, economic, racial, and other forms of justice. The complex social structures that predicate inequality and discrimination require multi-interventions and interdisciplinary action. Everyone has valuable contributions to the fight for justice. I hope to fulfill my global responsibility through my work at the School and in the IIDEA Committee.       

I'm humbled to be nominated to represent Institute for Families (IFF) on the SSW IIDEA Committee. Working on the New Jersey Child Support Institute (NJCSI) grant for 13 years, it's been my pleasure to work with a diverse group of coworkers and clients. I've been in a unique position to advocate for others, whether on the job, or in the classroom. It's important for everyone to not only be seen, but also to be heard, understood, and valued regardless of their status, appearance, or philosophy. I hope to advocate for you "Stirring up good trouble!" to bring about a more equitable, respectful and fulfilling work experience for all.

As a School of Social Work faculty member committed to advancing diversity, equity, and inclusion here at Rutgers and beyond, I am pleased to join the School of Social Work's IIDEA (Inclusion, Intersectionality, Diversity, Equity and Advancement) committee. 

I believe strongly that social work academics must reach beyond the passive production of knowledge and scientific scholarship to truly live up to our profession's Code of Ethics. Section 6 of this code calls on all social workers to "engage in social and political action that seeks to ensure that all people have equal access to the resources, employment, services, and opportunities they require to meet their basic human needs and to develop fully." This includes "advocating for changes in policy and legislation to improve social conditions." As such, I look forward to doing the hard and necessary work of changing the institutional policies here at the School of Social Work to ensure the infusion of IIDEA principles in our daily practices. 

I, myself, am a product of inclusionary policy – specifically, the first court-ordered school busing desegregation program in the Northern United States. In 1971, a federal judge integrated our local public school system through this court order and because of this policy change, I was bused from a predominantly white, middle-class neighborhood to a predominantly non-white school in which over 90% of students qualified for free and reduced lunch. This early experience had a profound effect on the way that I view the world and the unlevel playing field on which we all operate. It has propelled me to use the ways in which I have privilege to engage in a lifetime of work toward advancing social justice, diversity, equity, and inclusion. 

My current academic work examines the provision of homeless services and how to improve this service system, including with regard to advancing racial equity and reversing the enduring effects of decades of racist housing policy. But I began working in social services at the age of 18 and, since that time, have worked to effect change in my community. I am a recipient of a New York University School of Social Work Social Justice Award in recognition of my participation in direct actions and activism around economic inequality, access to birth control and affordable health care, as well as other social justice issues. I engage in local affordable housing advocacy and political reform work for which I was recognized with a Woman of Action award by the City of Jersey City, New Jersey. 

I look forward to bringing these advocacy skills and my commitment to IIDEA principles to the work of this committee in order to create genuine institutional change here at Rutgers. 
Past IIDEA Committee Members
2021-2022 Committee Members
Monica Grace Sanagustin | MSW Traditional Porgram Student Representative
Vimmi Surti | MSW Student Representative
Angela Jones | BASW Student Representative
Tangela Sawyerr | DSW Student Representative
Iris Cardenas | PhD Student Representative