A Conversation with MSW Student Valentina Gil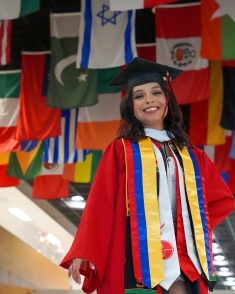 By Shreya Gupta, Class of 2023

We recently had the opportunity to speak with Valentina Gil, a student in our MSW program, about her time at the School of Social Work and plans for the future.

I understand that you were a Rutgers Future Scholars Program participant. Could you share more about your experience being in this program?
Rutgers Future Scholars is a program that selects first-generation, low-income, academically promising students and gives them an opportunity to have a college education. I was inducted into this program as a seventh grader, but as a child of immigrant, working-class parents, I recognized the importance of obtaining a higher education from very early on. From the summer before my 8th grade year to my senior year of high school, I received support through mentoring, access to university programming, and college credit-bearing courses. This program gave me a strong academic support system, life-long friends, and the hope that I could achieve my dreams, just like anyone else – no matter my background.

Why did you choose to pursue your MSW at Rutgers School of Social Work?
I chose to pursue my MSW at Rutgers School of Social work because it seemed like the natural next step to pursue my professional goals. The Rutgers social work professors that I met in my undergraduate studies completely transformed my worldview, and I knew the quality of a Rutgers MSW degree would train me for the work I hope to do upon graduation. More specially, Rutgers School of Social Work offers a Management and Policy specialization and an area of emphasis in global social work, which is exactly what I wanted to study for my graduate degree!

What do you hope to gain from your studies here?
With the completion of my MSW, I hope to have gained the skills and credentials needed to advocate for immigrant communities. I have learned the importance of practicing culturally humble social work that empowers clients on a micro, mezzo, and macro level. Lastly, with my degree, I hope to uplift my working-class family and inspire other first-generation students of color to pursue higher education!

Do you know what you'd like to do after you graduate from Rutgers School of Social Work?
Upon graduation, I hope to work in the field of global social work, particularly doing social work with immigrants and refugees. I am currently searching for jobs in this realm, but I am also interested in work regarding diversity, equity, and inclusion, as well as anything liberation-based, which is what I think social work is truly about!

What is your proudest achievement?
My proudest achievement is being the first person in my family to graduate from college and work to obtain a master's degree. It has been an honor to have this opportunity and I could not have done it with the support of my loved ones.

Is there anything else you would like to share?
Be fearless in the pursuit of anything that sets your soul on fire. Also, lead with love so justice will follow.