Rutgers School of Social Work Celebrates Class of 2023 at Convocation Ceremony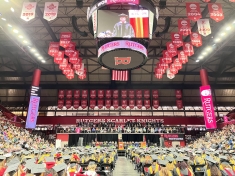 On Monday, May 15, Rutgers School of Social Work hosted a convocation ceremony to recognize its BASW, MSW, DSW, and Ph.D. graduates. Families and friends gathered at Jersey Mike's Arena in New Brunswick in support of their loved ones who have spent years of hard work completing their programs and tackling countless hours of class time, research, and field work. In total, 822 graduates earned a degree from the School of Social Work this year, including 646 MSW grads, 154 BASW grads, 11 DSW grads, and 11 Ph.D. grads.
Cathryn C. Potter, whose tenure as dean of Rutgers School of Social Work is ending later this year, welcomed guests to the ceremony. Dr. Anthony Estreet, CEO of the National Association of Social Workers (NASW) and a highly esteemed leader in the field of social work, delivered the convocation address. Dr. Estreet has more than two decades of experience in the social work profession and has made significant contributions to the field through his academic and professional endeavors.
Along with the conferral of the degrees, the School presented the following awards in recognition of our students' outstanding work:
MSW
Outstanding MSW Student in the Clinical Specialization: Abigail Smith Liu

Outstanding MSW Student in the MAP Specialization: Nimit Kaur

Outstanding MSW Student in the Online Program: Alia A. Zarwi 

Outstanding MSW Student in the Intensive Weekend Program: Kimberly Joy Crawley

Outstanding MSW Student in the Blended Program: Emily M. Dalton

Outstanding MSW Student Studying in Newark: Gemina R. Ceide

Outstanding MSW Student Studying in Camden: Reuben Joseph Wilmer

Outstanding MSW Student Studying in New Brunswick: Rebecca L. Jensen Compton
BASW
Outstanding Student in the Camden BASW Program: Jana Sasser

Outstanding Student in the New Brunswick BASW Program: Nicole E. Vega

Brian C. Wright Social Work Award: Michael Sunlitis
PhD
Emerging Scholar IIDEA Research Recognition Award: Addam Reynolds

Dean's Dissertation Award: Kate Golden Guzman
In addition, faculty and staff members were presented the following awards:
Outstanding Professor in Clinical Specialization: Tawanda Hubbard

Outstanding Professor in MAP Specialization: Mark Lamar

Outstanding Professor for Excellence in Inclusion, Intersectionality, Diversity, Equity and Advancement (IIDEA) Teaching: Marla Blunt-Carter

Outstanding Professor for Innovative and Creative Teaching: Laura Cuesta 

Most Supportive Professor: Mary Beth Ali

Outstanding Part-Time-Lecturer: Laura De Cillis

Outstanding Doctoral Student Teaching in the BASW or MSW Programs: Rupa Khetarpal

Most Supportive Staff Member: Arlene M. Hunter                                    
To round out the program, student speaker Nimit Kaur, a member of the MSW Class of 2023, addressed the audience with words of encouragement and support. Kaur earned her MSW in Camden with a specialization in Management and Policy, graduating with a 4.0. She also earned an Aging & Health Certificate and was selected as a Taub Fellow in Aging.
Dean Potter concluded the ceremony with words of encouragement for the Class of 2023. "Graduates, you have been prepared for a wonderful career in social work by an outstanding group of faculty and field instructors," she said. "We wish you great success and know your legendary class will change the world. We are so very proud of you!"
Congratulations, graduates, and welcome to the Rutgers School of Social Work alumni network!