Antoinette Farmer
Professor and Associate Dean for Diversity, Equity and Inclusion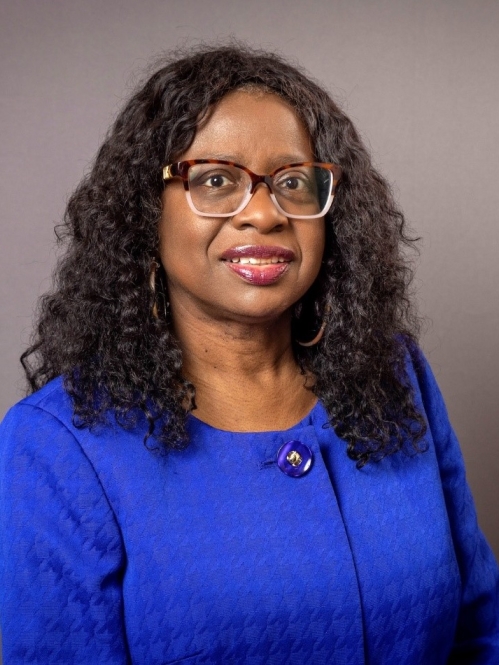 Bio
Antoinette Y. Farmer (Ph. D., University of Pittsburgh, 1991) focuses on research that examines the social and interpersonal factors that affect parenting as well as how parenting practices influence adolescent high risk behaviors, such as delinquency and substance use. This research agenda has been greatly influenced by the work of Jay Belsky, and she has also modified his ecological model as reflected in her research examining the buffering effect of social support on the relationship between parenting stress and parenting behavior. Her work in the area of parenting has led her to develop and test models to determine what variables may mediate the relationship between parenting and adolescent outcomes. She is also beginning to examine the effects of fathers' parenting practices on adolescents high risk behaviors. Her work has also examined the effects of religion/spirituality on adolescent high risk behaviors. In order to carry out her research agenda, she conducts quantitative data analysis using large national data sets. Her research has been published in Social Work, Journal of Social Service Research, and Children and Youth Services Review. She co-edited a special issue of the Journal of Social Service Research, which was devoted to informing researchers of the methodological issues confronting them when conducting research with minority and oppressed populations. She has also written several chapters on this issue as well, with the most recent appearing in the Handbook of Social Work Research Methods (2nd Edition). She has served as a consulting editor for Social Work in Education and on the editorial board for Children in Schools. Dr. Farmer has also presented at numerous national and international conferences.
Courses Taught
Psychopathology
Human Behavior & Social Environment (HBSE)
Methods of Social Work Research I
Childhood Sexual Abuse
Dissertation Seminar (Doctoral program)
Selected Publications
Books
Farmer, A. Y. & Farmer, G. L. (2020).   Research methods for social work: A problem-based approach.   Thousand Oaks, CA:   Sage.
Farmer, A. Y., & Farmer, G. L. (2014). Research with diverse groups: Research designs and multivariate latent modeling for equivalence.  New York, New York:  Oxford Press.
Selected Recent Publications
Farmer, A. Y., Wang, Y., Peterson, N. A., Borys, S., & Hallcom, D. K. (2021).  Social isolation profiles and older adult substance use:  A latent profile analysis. J Gerontol B Psychol Sci Soc Sci, 2021, Vol. XX, No. XX, 1–11 doi:10.1093/geronb/gbab078
Wu, S., & Farmer, A. Y. (2021).  Risk and protective factors of youth prescription drug misuse:  Variations across racial/ethnic groups.  Child and Adolescent Social Work, doi: 10.1007/s10560-021-00752-1.
McMahon, S., Peterson, N. A., Farmer, A.Y., & Miller, S (2020).  Examining the relationship among student empowerment, sense of community, and the implicit curriculum.  Journal of Social Work Educatin, 56 (1), 68-90, doi: 10.1080/10437797.2019.1656567
Farmer, A. Y., Powell, K., Treitler, P. C., Peterson, N.A., & Borys, S. (2019). A case study of SBIRT on a college campus:  Challenges, adaptations, and improved outcomes. Journal of Social Work Practice in the Addictions, 19, 158-176. doi: 1080/1533256x.2019.1590703
Farmer, A. Y.  (2017).  Examining the psychometric properties of the Identify as a Professional Social Worker Subscale. Journal of Social Work Education, 53, 676-683. doi:10.1080/10437797.2017.1302855
Peterson, N. A., Farmer, A. Y., Donnelly, L. & Forenza, B. (2014).  Assessing the implicit curriculum of social work education:  Heterogeneity of students' experiences and impact on professional empowerment.  Journal of Teaching in Social Work, 34, 460-479. 10.1080/08841233.2014.955943 (Article Usage Report: 488 times).
Peterson, N. A., Farmer, A.Y., & Zippay, A. (2014).  The implicit curriculum in an urban university setting:  Pathways to students' empowerment. Journal of Social Work Education, 50, 630-647. (Council on Social Work Education [CSWE] Best Quantitative Article Award; Article Usage Report  682).  doi:  10.1080/10437797.2014.947163
Farmer, A. Y., &, Hairston, Jr., T. (2013).  Predictors of gang membership: Variations across grade levels. Journal of Social Service Research, 39, 530-544. (Article Usage Report: 865 times). doi:  10.1080/01488376.2013.799112
Farmer, A. Y., & Lee, S.  (2011). The effects of parenting stress, perceived mastery, and  maternal depression, on parent-child interaction, Journal of Social Service Research, 37, 516-525.  (Article Usage Report: 1995 times and the 10th most cited article for this journal in the last three years). doi:  10.1080/01488376.2011.607367