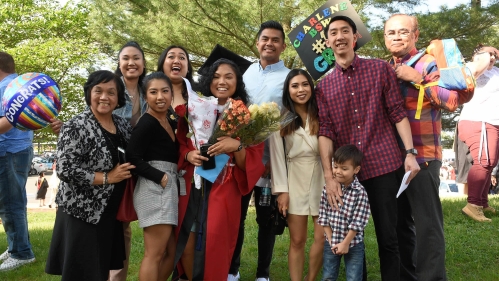 Commencement & Convocation
Commencement
Rutgers University's 2023 commencement took place on Sunday, May 14, 2023 the at the SHI Football Stadium. Commencement is a campus-wide ceremony, and students are not recognized individually. 
Regalia
Graduates who attend Convocation and/or Commencement will need regalia. Regalia includes a gown, a cap, tassel, and a hood.
For MSW graduates, the cap and gown are basic black and the hood for social work has a citron (yellow) border along the Rutgers scarlet.
For BASW graduates, the cap is black and gown is red.
The tassel is part of the package. Graduates may purchase regalia at the bookstores or order online and have regalia sent to their home (see below). If graduates have access to a black gown and/or cap from a friend or family member, they may purchase the hood and tassel separately. Double-check the package when at purchase time to make sure the tassel is included. Graduates who have been inducted into the Phi Alpha Honor Society, are encouraged to wear their medallion. You are not required to pre-order your regalia. Please direct questions about regalia to the bookstore staff.
Graduates may purchase regalia from the Barnes and Noble Rutgers University Bookstores (locations below). 
Barnes & Noble at Rutgers
Gateway Transit Building
100 Somerset Street, New Brunswick, NJ 08901
732-246-8448
Rutgers University - Newark
Barnes & Noble at Rutgers University–Newark
Hahne's Building
42 Halsey Street, Newark, NJ 07102
848-445-2200
Rutgers University - Camden
University District Bookstore at Rutgers University–Camden
601 Cooper Street, Camden, NJ 08102
856-968-1200