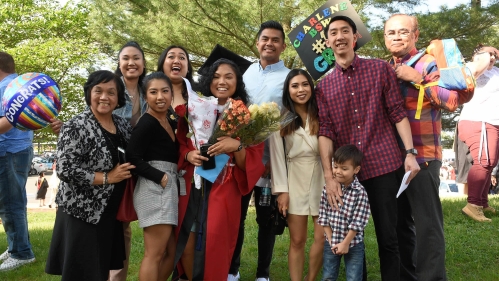 Commencement & Convocation
Commencement
Commencement will take place at 10:00am on Sunday, May 14, 2023 the at the SHI Football Stadium. Commencement is a campus-wide ceremony, and students are not recognized individually. The Commencement speaker will be announced soon. All students are invited but not required to attend. Tickets and parking passes are required.
Convocation
Convocation is the graduation event specifically celebrating social work students at 3:00pm on Monday, May 15, 2023 at Jersey Mike's Arena on the Livingston Campus in New Brunswick/Piscataway. Graduating students should arrive by 2:00pm.
Graduates are not required to attend but will not want to miss this festive event.
Convocation is only for social work graduates: PhD, DSW, MSW, and BASW (New Brunswick and Camden).
Individual graduates' names will be read as graduates walk across the stage.
Registration is not required and free, unlimited parking will be available.
Special seating for individuals with mobility issues is available but the arena does not have wheelchairs.
There is no limit to how many guests graduates may invite –  guests do not need tickets nor do they need to register to attend.
Graduates will have their photo taken by professional photographers at least four times including a posed photo in front of a RU background.
Convocation will be live-streamed for those who are unable to attend in person. The link will be available closer to the event. 
To enter the Arena for Convocation, ALL attendees MUST SHOW:
Proof of full vaccination or proof of a negative COVID-19 PCR test within 72 hours of the event will be required for entry to all indoor events (for all individuals above the age of five). 
Verification of vaccination or negative test result must be accompanied by a valid ID.
Booster shots are not required to be considered fully vaccinated.
Photos of vaccination cards and/or apps such as Docket are acceptable – bring valid photo ID, too.
Home test results are not acceptable.
These items will be checked upon entrance to the facility and there are no exceptions. At this time, the University has lifted the mask requirement, but we do encourage graduates and guests to wear masks at all times. There will be no social-distancing requirements in place.
We encourage you to share your convocation photos on social media on the day of the event using the hashtag #RUSSW2023 in your posts.
Regalia
Graduates who attend Convocation and/or Commencement will need regalia. Regalia includes a gown, a cap, tassel, and a hood.
For MSW graduates, the cap and gown are basic black and the hood for social work has a citron (yellow) border along the Rutgers scarlet.
For BASW graduates, the cap is black and gown is red.
The tassel is part of the package. Graduates may purchase regalia at the bookstores or order online and have regalia sent to their home (see below). If graduates have access to a black gown and/or cap from a friend or family member, they may purchase the hood and tassel separately. Double-check the package when at purchase time to make sure the tassel is included. Graduates who have been inducted into the Phi Alpha Honor Society, are encouraged to wear their medallion. You are not required to pre-order your regalia. Please direct questions about regalia to the bookstore staff.
Graduates may purchase regalia from the Barnes and Noble Rutgers University Bookstores (locations below). 
Barnes & Noble at Rutgers
Gateway Transit Building
100 Somerset Street, New Brunswick, NJ 08901
732-246-8448
Rutgers University - Newark
Barnes & Noble at Rutgers University–Newark
Hahne's Building
42 Halsey Street, Newark, NJ 07102
848-445-2200
Rutgers University - Camden
University District Bookstore at Rutgers University–Camden
601 Cooper Street, Camden, NJ 08102
856-968-1200